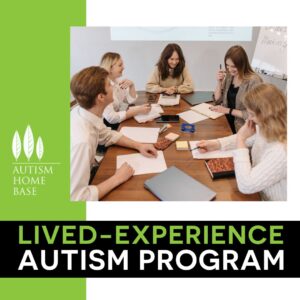 Autism Home Base presents
'Lived Experience Autism Perspective' (LEAP)
a 90-minute interactive, open discussion to support your team's understanding and service provision to neurodivergent community members. Let us help your team:
* Demystify autism

* Brainstorm strategies

* Develop inclusive solutions
LEAP was developed in collaboration with autistic self-advocates who identified six principles for success in community.  
Understanding these principles will help allies and supporters like YOU, create and foster environments where everyone can thrive.

Workshop fee – $300
 ($150 for non-profits)
Autism Home Base is a proud member of
Autism Home Base is a proud member of